All The Pretty Horses Perform Ruin at the 7th Street Entry (5/14/09)
What you need to know: All The Pretty Horses is and has been for some time one of the most glamorous and spirited live bands in Minneapolis.  Unrivaled, unrelenting, unbelievably original.
Four young women stepped into the 7th Street Entry from off the street, looked around, and then at one another.  They witnessed a scene where eclecticism met conventional, comical met sincere.  The evening's opening band Lusurfer surfed through instrumental numbers one after another, thanking Satan between each in a display that left the crowd roaring.  Their unique brand of satanic surf rock made for a perfect opening cocktail, dark yet twistingly fun, like Jagermeister and whipped cream.  Members from All The Pretty Horses socialized with fans and friends near the bar, fully decked out in glam regalia, a crucial element of the band's image since their beginning in 1995.
The four young women giggled and exited to 7th Street, perhaps thinking they were in the wrong place.
Twenty-five years after bands such as Prince and the New Revolution, The Replacements, and Hüsker Dü vaulted Minneapolis into the national spotlight, people still often cite them as the epitome of what rock n' roll is, has been, and always will be in Minnesota.  Yet any seasonally warm-blooded Minnesotan knows that things didn't begin nor end with these bands.  Since the 80's Minneapolis and its surrounding areas have continuously pumped out remarkable artists, and All The Pretty Horses have at various times stood head and shoulders above the rest.  Fronted by the charismatic Venus DeMars, All The Pretty Horses is the premier dark glam band of Minnesota, contrastingly bright in the annals of our local scene's history.



On this evening was the second of four May shows honoring the 15 year, four album long career of All The Pretty Horses.  Past band members were invited to return and 1998's album Queens and Angels was performed in its entirety, beginning to end.  Venus donned her black angel wings and pig-tailed hair, neon feather boas were littered on mic stands and around the neck of bassist LeFreak.  Theatrical devices such as these were precursors of things to come, but to adoring All The Pretty Horses fans, they are familiar symbols of something that has bound them around a group of artists unlike any other.
As All The Pretty Horses cranked into their first song the floor of the Entry filled.  The present lineup of Venus, LeFreak, and drummer T-Rev plugged through three teetering tunes, just strongly upbeat enough to begin moving the attendees.  But it wasn't until LeFreak and T-Rev descended the stage and Venus' old friends and bandmates ascended that the people were given what they had come to expect.  Backed by Tiffany (aka. Jonnycakes) on finger cymbals and backing vocals, Ed Ford on bass, and Matt Batchelor on drums, the team sound-bludgeoned the crown with "God Dog."  For band and fans alike, it seemed a resurrection of 1998, a moment in time recreated.
After several songs the lineup switched back again, and then again, and then again.  All The Pretty Horses would shed some of their garb, and then reaccessorize.  As Venus uttered the words "Ground control to Major Tom," the crowd danced, adding to the climax that signaled the end of Queens and Angels, "Space Oddity".  Venus smiled afterward, and in a gracious tone said "Queens and Angels."  And there it was; the performance of a chapter within the long life of a band whose mark will endure as long as The Replacements or any other past Minnesota darling.  An encore was had, and Venus was joined onstage by two guest dancers from the crowd, who to everyone's delight, had apparently invited themselves on stage for the final cuts from Ruin.



Afterward a friend confided that she had seen All The Pretty Horses more times than she could count, and never once felt as if she was left wanting of anything.  I suspect four giggling women could have felt the same that night.  Everyone else did, including this first-time show goer.
All The Pretty Horses will perform two more anniversary shows at the 7th Street Entry this month on Thursday, April 21 and Thursday, April 28.  They will perform the album Ruin on the 21st and Creature on the 28th.  Vintage ATPH merchandise will be available at both shows, but supplies are limited.
Vintage ATPH – "God Dog"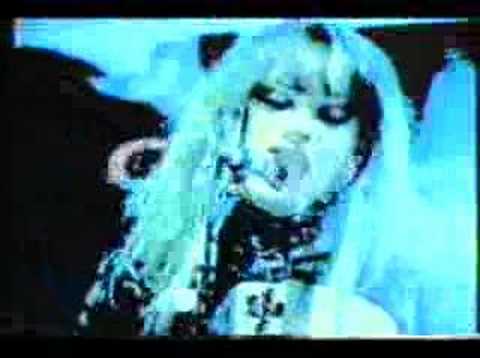 Links
All The Pretty Horses – Website / Myspace
Venus DeMars – Website / Myspace
posted May 20th, 2009 at 8:15 pm MN Rock, Reviews All The Pretty Horses