A Farewell to Minneapolis Interview with Ari Herstand: Part 3
Editor's Note: Being an established Wisconsin-to-Minnesota-to-California singer/songwriter is one thing, but even before he started performing out on his own Ari Herstand was (and still is) arguably one of the biggest fans of Twin Cities music. In part 3 of his farewell interview, Ari talks about the local bands he loves and the numerous musicians he's gotten to know and work with over the years. Read part 2 here.
Mike: You've also worked with quite an all-star cast of musicians in this town. Some of the names that come to mind, like members from bands like Roster McCabe, White Light Riot, This World Fair; you've had pretty much the entirety of This World Fair as your backing band at times. So if you could just tell me about some of the other bands in this town, whether it's working with them, being friends with them, knowing them, or even having them perform with you in your band.
Ari: My absolute favorite part about being in Minneapolis over the last 7 years has been the local music community. Before I was even performing out, my freshman year of college I attended as many local music shows as I could. I would go out sometimes 4-to-5 nights a week on my own to different venues around Minneapolis just to see music. I didn't have an agenda; I just showed up because I knew that they had music and I'd see whomever was playing. I continued this for a couple years. There was a time—like '03 through '06—where really for a good 3 years or so where when I wasn't performing, I went out and saw music and when I found bands that I loved—that I really got into—I started following them.
White Light Riot (2008)
That's what happened with White Light Riot. Actually the first show that I saw of theirs I actually played with them it was September '06 I believe. You were there Mike; it was at St. Kate's college (now St. Kate's University) and it was like a trial run for On-Campus Booking. I'd been playing around the U and I guess they'd heard about me. And they said they needed to fill this spot at St. Kate's. I didn't know White Light Riot was on the bill; I didn't know them at the time. So it was the two of us; I saw their show and I loved it. That was when I really got into them. We met briefly at that show, and I remember being right up front with my band and all the girls of St. Kate's dancing and just rocking out to White Light Riot. There was maybe 40-50 people in the entire place, but we were all jumping up and down in this extremely and uncomfortably well-lit ballroom. There was no stage lighting, there was just bright, fluorescent light everywhere. But it was fun, and it didn't hurt that there were like 50 girls and 5 guys in the pit.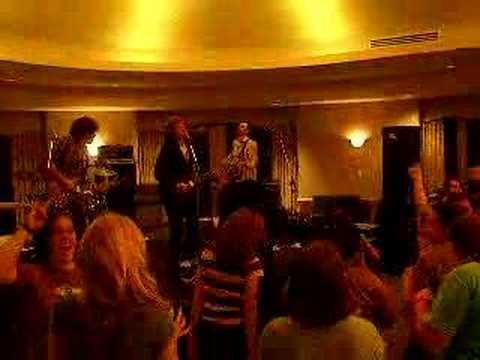 Every show that they had after that I tried to catch. I followed them all over this town and I went to as many shows as I possibly could, and I got to know the guys better just from seeing the shows.
Mark Schwandt
I think the first thing that attracted me to the band, above everything else, was Mark's drumming. I was just entranced by his drumming and every show I made certain that I had a clear view of Mark [Schwandt] the entire show. Aside from the fact that he's incredibly animated when he drums and he looks like a psycho killer, his drumming is so dead-on, and perfect, and he's just so meticulous with his parts. So incredibly solid and unique! He has a sound. And when a drummer has a distinct sound where you can turn on a recording and I can tell you that it's Mark Schwandt drumming, that's when you know you've found something. That was really amazing to me that we have such talent in Minneapolis.
For the first couple years of White Light Riot that was what drew me in. They're great songwriters; they put on a phenomenal show. They definitely influenced my performing a lot, just from watching how they drop a pint of blood on the stage every show that they play, and they just throw themselves into it 100%. That was something that I fell in love with, and I knew that I wanted something like that. I wanted to have that power; I wanted the audience to just feel that energy. It was really that energy more than anything. All four of them in that group from the beginning, they just put so much energy into every performance. Their music calls for that a little more than mine, but at the same time that was very important to me; to bring that kind of energy to every show.
Ari Herstand at Cornstock at Concordia College in Moorhead, 4/21/07
The Alarmists
I think it was even before that where I caught The Alarmists at Big V's in St. Paul when I was a student at McNally [Smith College of Music]. I went to the show because it was a roommate's friend or a friend-of-a-friend was on the bill. I don't even remember what band I was there to see, they weren't very good. But then The Alarmists played… and the thing I remember most about that was the spastic Joe on tambourine. But they were great, I remember walking away and was like, "Wow, that was a great band." I didn't get into them immediately as much at that time like I did White Light Riot.
Roster McCabe
Like I said before Roster McCabe and I have been performing since both of our inceptions basically. I performed with them when they were an acoustic trio under a different name, and then they added members; I've seen their development from the very beginning. I've respected each of them as musicians and songwriters and how they've developed their sound. I enjoyed them as an acoustic project, and I enjoy them even more now as one of Minneapolis's premiere jam acts. When I talk to people around the country, and they say something like "my friend's band is playing so I have to go check them out;" it was never like that for me. I never felt obligated to go because my friend's band was playing; it was more that I just couldn't wait to see one of my favorite bands. Oh yeah, and we're friends. That's what it was with these Minneapolis groups.
This World Fair (2008)
This World Fair, I think the first time I saw them I performed with them was at The Varsity with Catchpenny, and I opened the show. I really got into them there, but I remember the song "Seven Letters" that they performed at the show. It wasn't on any recordings—they only had their EP at the time—and I remember going home and YouTube-ing This World Fair. I found a live version of "Seven Letters" just performed by Chris [Kalgren] and his piano that I played on repeat at home. I just kept playing that YouTube video, and I fell in love with that song.
This World Fair
This was probably back in '06/'07, and to date it remains to be my favorite song. They finally recorded it on their full-length LP and I got to hear it with the full production. That album remains to be probably one of my top 25 albums of all time; their full-length album that they never officially got to release when they were a band themselves. They had to break up and Chris had to fight for the rights on his own for the label to release it to him.
I needed to find musicians for a backing band to play with me. I knew the energy I wanted to bring to the stage and I didn't think it could be accomplished just from me on a giant stage in a giant room, even if I had my loop station. It just didn't have the power, didn't have the energy. So I wanted a band. That was very important to me. I had a rotating cast of musicians. When I saw musicians around town who I liked I asked them to play with me.
That's how I got George [Hadfield] from the very beginning, or even earlier than that when I saw Casey Palbicki and Johnnie Timm play with Roster McCabe. They played with me for a few shows. Believe it or not I asked Dan Larsen from White Light Riot before I asked George, because I'd seen more of their shows and I knew him a little bit better than I knew George at the time. He impressed me as a bassist and I asked him if he'd play with me. He was like, "I'd like to, but I'm concentrating with White Light Riot right now." This was around the time [in their 50 Records stint] when they were working really hard and playing all the time, so they didn't really have much time. I asked if he knew anyone else, and he suggested George.
Ari Herstand at The Fineline, 4/10/08
Over the years, playing with George and seeing him in all these other projects that he's been a part of; This World Fair, ReadyGoes, so many others, he has definitely become one of my favorite bassists in the Cities or even around the country. George is also an incredible talent as a songwriter that most people don't realize. This World Fair songs were co-written by Chris Kalgren and George Hadfield; and he writes many ReadyGoes songs as well. I've done a little bit of co-writing with him. He's an incredible songwriter, phenomenal bass player, and just an all-around great musician. I've been extremely honored to play with him, and I'm incredibly humbled that he's agreed to play with me for the last three years, consistently. He's done nearly every show I've had with a band over that period.
One of my favorite Minneapolis bands is Halloween, Alaska. That was a band I got into early on, like '05. This is one of the bands I never got to know all the members from that well, because I think there was just an age gap. They're a bit older than I am, except for maybe Jake Hanson, who joined the group later. I got to know Jake a little bit, he's also a great guitar player. I've always been into drummers from the very beginning of my musical existence. Carter Beauford from the Dave Matthews Band was my favorite drummer in high school. Dave King was another talent that floored me when I saw Halloween, Alaska. I remember listening to Mason Jennings's Boneclouds album, and from the first time the drums kicked in, I was just like, wow this sounds like Dave King, and sure enough it was. I have all three Halloween, Alaska albums and it's just such incredible music and they've really become one of my favorite bands in the cities as well.
From early on, I felt it was very important to support this Minneapolis music community because we have such incredible talent. I mean if I was in another city that didn't have this kind of talent, that didn't have these kind of bands that put on such incredible shows, put out such great albums and songs, and have all-around great musical talent, I probably wouldn't have such an allegiance to the city or be as supportive as I am. From '07-'09 the only music I listed on my Facebook profile as my favorite music were Minneapolis bands, and I probably listed 25 bands that were literally some of my favorite music at the time. In every interview I gave around the country, when they asked me who were my influences and favorite bands, without hesitation I said Minneapolis bands, and that wasn't a lie. They were the bands that were influencing me the most at the time.
The reason I got This World Fair—basically the entire group—to be a part of Whispering Endearments, with Chris Kalgren to produce it, George to play bass, and Zack [Carroll] to play guitar, was because they were my favorite band at the time. I loved their album so much that I wanted to have my album sound as good as theirs.
There are so many bands… I went to the weekly Root City Band gig downtown at Gluek's a lot, and I've gotten to know a few of those guys. Really what it comes down to is the Minneapolis music community is small. And even though it's extremely diverse and there is so much talent. Hell, George Hadfield has played with half the bands in this town. (Laughs) All the bands trade musicians. Even members of Roster McCabe have sat in with me when I needed musicians.
Root City Band was one of the local groups that were like superstars to me. Even though they were just at Gluek's on a Wednesday in this run-down downtown bar, like a step-up from a hole in the wall. Where there's no real stage or legitimate sound system in there. I remember one night seeing the speaker fall over and smash Jesse Larson's guitar that he had just got that day. But anyway, there was a community that would just go there every week and just love the music, love the band, love dancing, and just love having fun. Alex Rossi is an incredible guitarist, singer, and songwriter; Chris Larson is a phenomenal bassist; and Corey Blanchard is an amazing keyboard player. I've gotten to know them a little bit, but they were one of these bands that I got to really like that I was slightly intimidated by.
However, recently when I was at Bunkers in July for The New Congress and Root City Band co-bill show. They played their final song with all musicians on stage and they invited me up to be a part of their finale. That was an amazing honor for me to be up on stage with these musicians that I'd looked up to for so many years. Something about that, in one of the final months of my final year in Minneapolis, I felt like I had finally completely arrived in Minneapolis. It helped give me closure to the city that I love. And any doubt that I had about my place in the scene—with the media or other people who are outspoken about local music—any doubt that I might have had, just from that honor of being asked on stage by these incredible artists, was erased.
This World Fair (solo) at The Sunshine Factory, 8/4/09
This Minneapolis music community is supportive; the musicians are incredibly supportive of one another, and there's just this mutual respect that goes around. Above all, we do have an amazing music community. Yeah I've been a little bit discouraged over the last year by the media I've seen turn sour and from a lot of the patrons that've turned sour and negative. But at the end of the day, musicians define the scene. I've written a couple blogs about how I've been turned off as of late, but I want to make clear that my love for Minneapolis music has not changed; it has not faltered. It's as strong as ever, because the talent hasn't gotten worse. The reason I'm leaving is not because I don't like Minneapolis music anymore. It's because I need to move on with my personal musical journey to advance my career; to continue my own journey.
Editor's Note:
In
part 4
of this interview series, Ari talks about how and why he came to the decision to leave his lifelong home—the Midwest—for California. Read on.
posted August 12th, 2010 at 9:06 am Interviews, MN Rock Ari Herstand